Tommy was interested in bikes from an early age, and passed his road bike test at the age of 17. He always considered himself a fast rider on the roads, but realised pretty quickly that that doesn't prepare you for track or real road racing.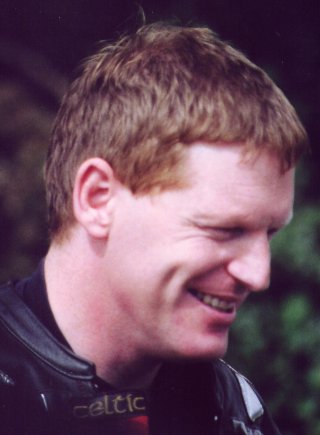 He always had ambitions to race in the Manx Grand Prix, but it took him until he was 32, when in 2000 he decided to take his first steps towards realising that ambition. He, and fellow racing enthusiast and friend, Chris Preston formed Team P.C. Racing, and on 2nd April 2000 he pitched up at a piss wet Jurby Airfield for his first race meeting on his bog-standard R1 Yamaha - resplendent in a novice's orange bib! His important first signature was in the bag...
He attended many race meetings across, including Oulton Park, Aintree, Mallory, Darley Moor and Donington gathering those precious signatures, until he obtained first his Clubman's, then his National Licence. MGP here we come...
2001 was the year of foot and mouth and would have been the year that Tommy would have debuted in the Newcomer's Race had the MGP not been cancelled. It saw him racing the Honda CBR600FW (ex-Motorcycle City) and winning the Isle of Man Clubman Championship in the process. He also represented the IOM as part of the Manx team in the Celtic Match Races at Mondello Park.
Tommy's first Manx Grand Prix in 2002 saw him get an excellent 2nd place in the Newcomer's, 7th in the Junior and, sadly, a retirement in the Senior while in a good position.
The 2003 Manx was a major disappointment with retirements in both the Junior & Senior due to mechanical problems with the ex-V&M R6 Yamaha. He also took part in the Southern 100, Ulster Grand Prix and TT riding the TAS Suzuki GSXR1000K1 Production spec (Ex David Jefferies) and the V&M R6 Yamaha (Ex Moodie / Jefferies) Supersport 600 spec bikes.
Tom, along with his main sponsor Chris Preston, always ensured that they had the best bikes, equipment and gear that they could afford - it was a "Factory" Team. Team PC Racing enjoyed five very successful race seasons together. Tom had many private sponsors over the years - and he appreciated every single one of them, giving them credit on the web site, and with a sticker on the bike.
In the process he achieved some good results, won numerous trophies and several titles, amongst them:
A new sponsorship deal was struck with Martin Bullock, in addition to Chris Preston's continued support, and 2004 got off to an excellent start with him consolidating his place in, and eventually winning, the Andreas Racing Association Champion of Champions 600 cc Class. He had an excellent 11th place finish in the TT Production 600 race - despite a low starting number of 41 on the grid and holding 7th place for most of the race, picking up a silver replica. He was narrowly beaten into 3rd place in the Steam Packet 600cc race by Ryan Farquhar (winner) and Guy Martin. Another 3rd place in the 600cc race in the Southern 100 in July - again behind Martin (winner) and Farquhar
Hopes were, therefore, high for the 2004 Manx Grand Prix, and Tommy's practice times on the MBR Supersport CBR600RR were giving real hopes of success in both the Junior and Senior Manx races.
On the morning of the Junior Race, 1st September 2004, Tom's team, family and friends all gathered in the paddock to get ready for the big race. There was a feeling of tension as the race start approached and after wishing him luck everyone headed off to take their places for the race. On his way to the start line Tom was interviewed by Greenlight Television and then it was up to the bike, another interview - this time the traditional Radio TT version with Chris Kinley. After a natter with Ryan Farquhar, and a joke with fellow MBR team mate Ian Pattinson it was onto the bike to await the start of this highly anticipated race.
And then he was off, through the lights and down Bray Hill before you knew it...

On the first lap he smashed the 120mph barrier for the first time - clocking in at an impressive 120.28mph, that's 18mins 49.2seconds.... His second lap was 120.27mph (18 mins 49.3secs), leading the race all the way. He came in for a pit stop at the end of lap 2, getting a drink, visor change and fuel. Then he was out again on the third lap maintaining his lead. It seemed no time at all before he was through Glencrutchery Road again and out on the fourth and final lap.
Sadly, on this lap, as Tommy approached Ballaugh the engine in the 600 blew and he attempted to wrestle the bike under control. The bike eventually came to a stop, throwing him into the bales at Ballaugh Bridge and then hit him. Tom was airlifted to Noble's Hospital where the doctors and staff fought for hours to save him. Tragically, Tom's injuries were too severe and he died at 9.23pm that evening surrounded by his closest family and friends.
This web site contains a unique record of a unique man and his progress from a novice rider to record breaker. The Gallery contains a full photographic history of his racing days and Tom's "World Famous Diary" which provide us with a lasting, poignant, but always funny first person account of his short but amazing racing career.
<< enter >>